If you've been around UK van life on Facebook, Instagram, YouTube or even watched 'Escape the Wilderness' on BBC2 you will probably already know Bee and Theo of The Indie Projects. They began travelling in their van in 2014 exploring Europe and deep into the north of Scandinavia and have been travelling ever since. With a wealth of experience and knowledge under their belts they've decided to help others to get started with their exploration of Denmark, Sweden, Norway and Finland by writing their new ebook 'Travel the Nordics' and I've had the chance to go through it and find out how useful it is for you and who the book is really for.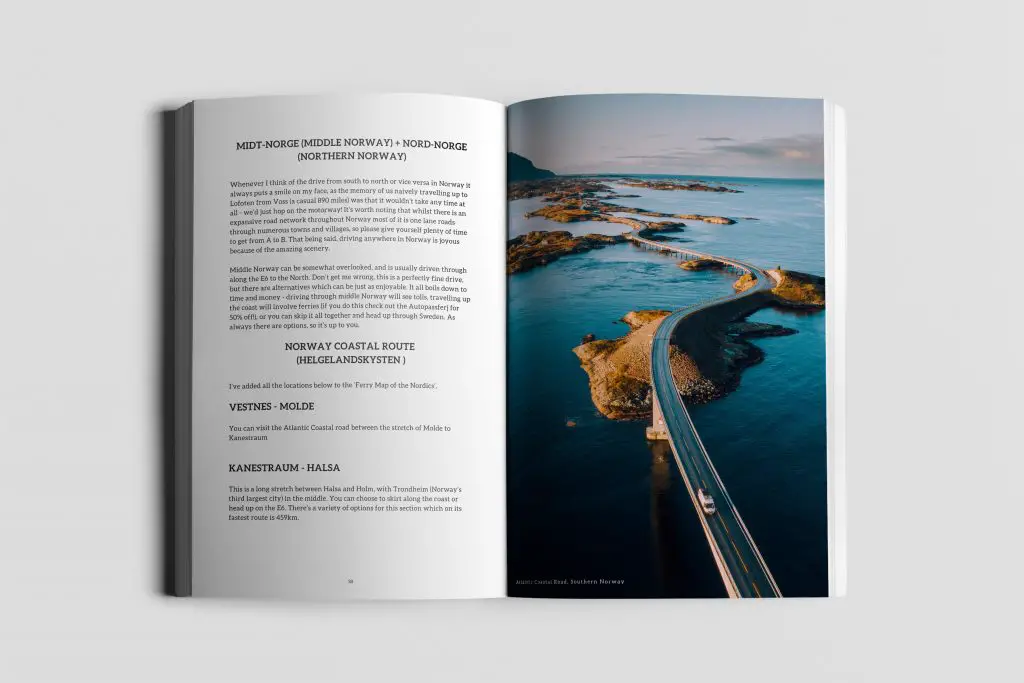 Travel the Nordics is a 113 page ebook containing information you need to know to travel to one of Denmark, Sweden, Norway and Finland, locations to visit with accompanying inspiring images, money saving tips as well as useful apps, maps and resources; basically everything you need to start planning your very own road trip around the Nordics.
In the book, Bee and Theo tackle over 7,200 miles worth of roads winding through Finland, Sweden, Norway and Demark over two different routes they have actually taken themselves. In each area they cover they detail points of interest from their trip, recommendations from locals and places they have discovered along the way. These range from hikes you can take, photo opportunities, to towns and cities to include in your own itinerary; it's basically a short cut to 6 months worth of Googling and planning, taking the guess work out of whether places along your route are worth visiting thanks to the accompanying photos which highlight the best the locations have to offer.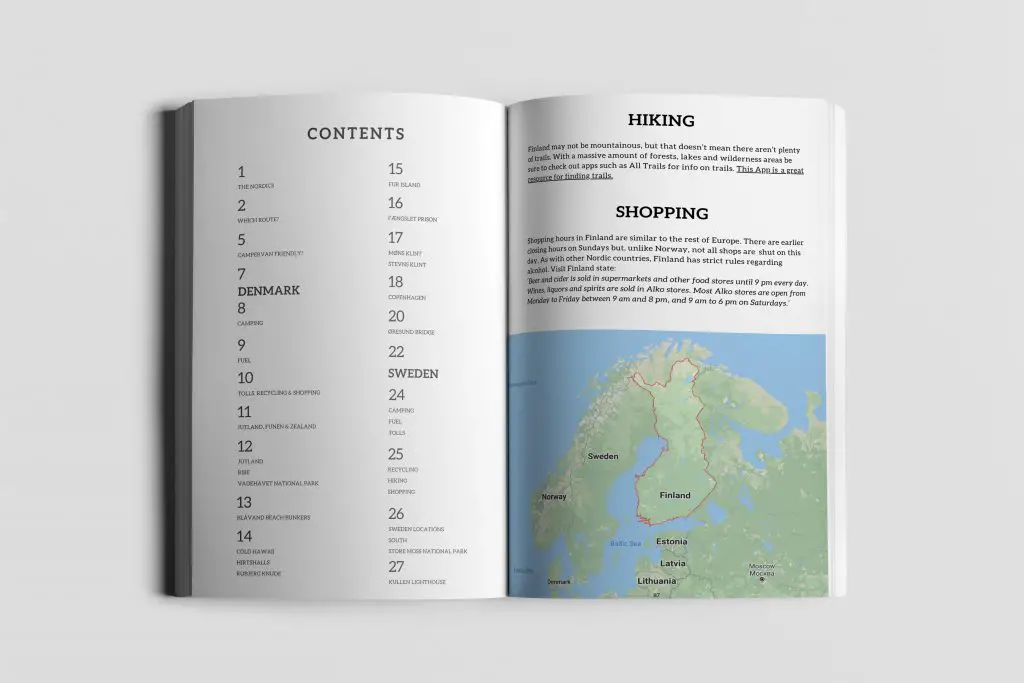 Having travelled around the Nordics in my van for 7 months I know the value of research. Unlike travelling in the UK, it's not as if you have a city every 40 minutes of driving and therefore it's vital to have an idea of where you're headed and why you're going there. I spent the first month aimlessly driving, deciding in the morning where I would be going that day and more often than not arriving at my destination to find out that it was not what I had thought it would be. This is where Travel the Nordics comes into it's own and where it sits for me as an ebook. While it takes the guess work out of having a successful and location filled trip it doesn't take out the adventure for you; it's not an exhaustive list of every cafe, restaurant, hiking trail and park up but is a blue print by which you can begin your adventure. I encourage you to stray from the path of the book safe in the knowledge that you need only open it up again and find the closest location and know that you can get yourself back on track.
Moreover, the focus of this book aligns far more with how I and many other camper van travellers like to travel; rather than from city centre to city centre, on campsites and among hoards of other holiday makers, I like to travel in my van from remote beautiful location to small local town. I like to experience more of what the country has to offer than you can find by booking a trip through a tour operator and so visit national parks and forests, small villages and fjord side towns. A lot of the locations mentioned in this book are places I myself went when travelling and were exactly what I was looking for from a van trip around Scandinavia, and the places I didn't see from this book have already begun to form the basis of my next adventure. If you've never been to Scandinavia and want to then there's no reason for you not to start your trip with Travel the Nordics as your guide book.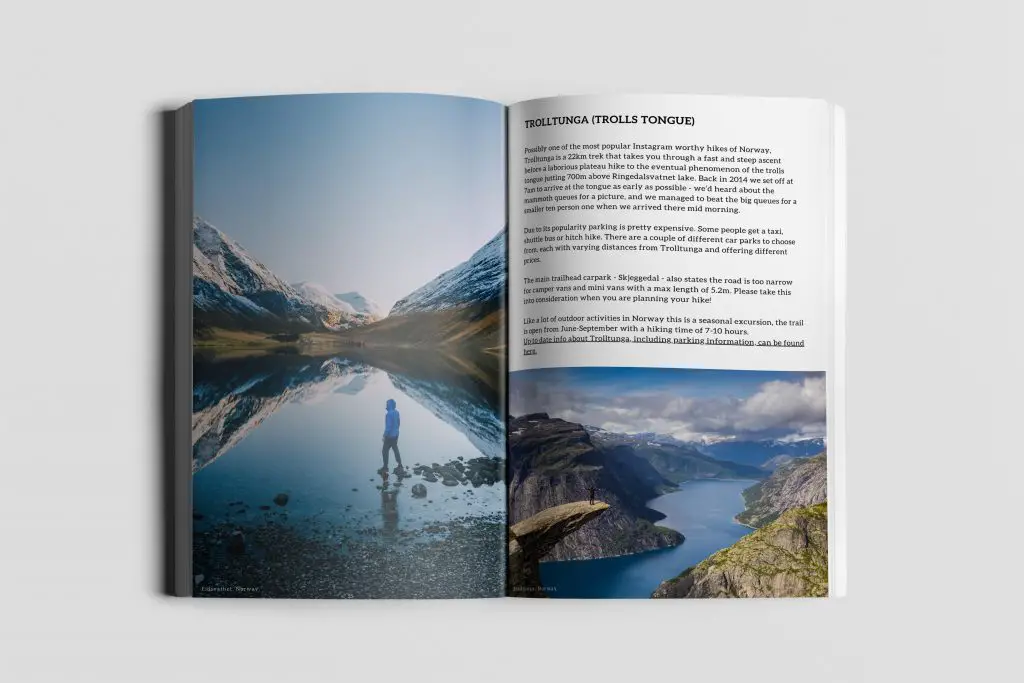 If you've read our article on the best van life books already then you'll know that not only am I a fan of guide books when travelling but I put an emphasis on not only camper van specific books, but more so on books written by people who have lived and travelled in their own van. After all, who knows best the requirements and limitations of those in camper vans than someone who's lived it themselves. This is why, as a guide to travelling in Scandinavia, I recommend Travel the Nordics by The Indie Projects, it's not a guide book put together by back packers focusing on the hostels and bars you should visit, nor a hiking guide written with the hotels and travel companies you should use to perfect your hike, but written by van lifers who have lived in their vans on these very roads, parked in those very park ups and written it for van lifers who are looking to explore the Nordics in their own vans.
Travel the Nordics is available as a stand alone ebook for £14.99 – available here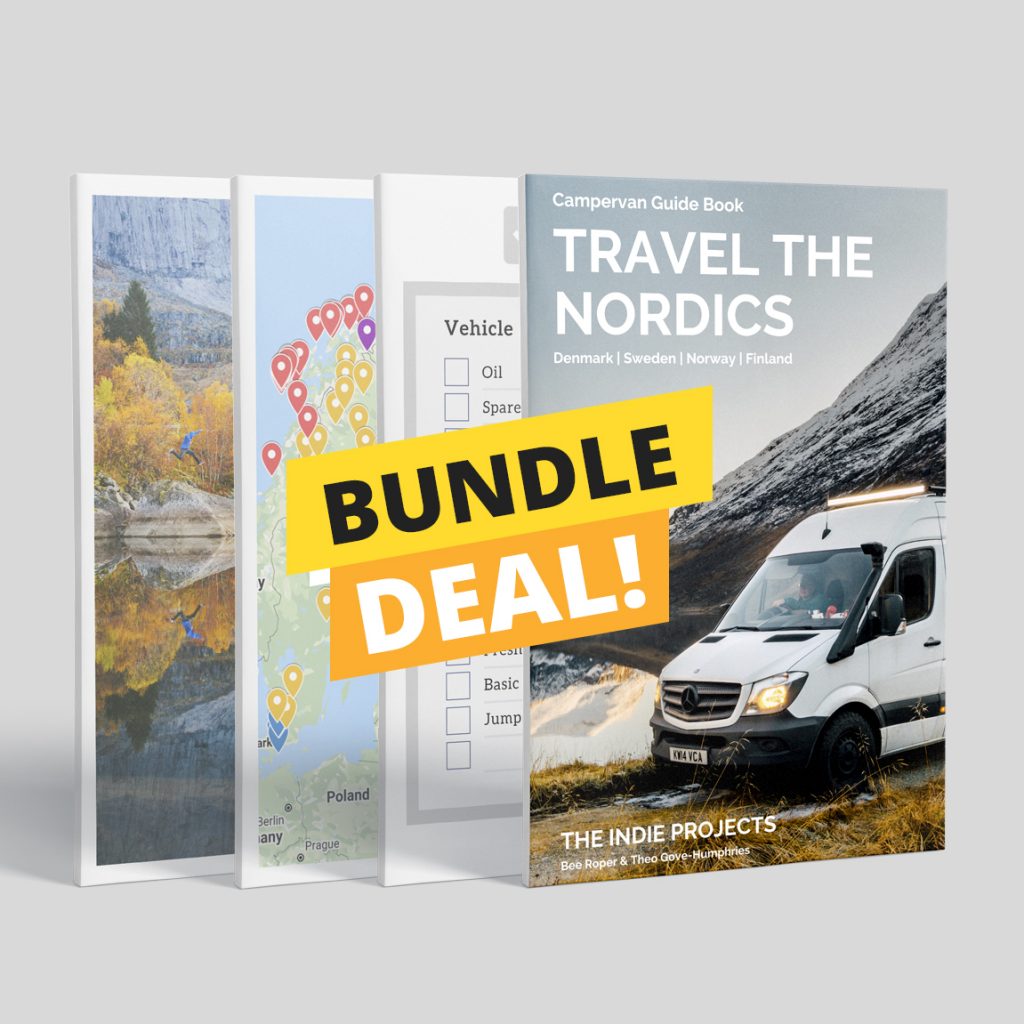 It is also available as part of a bundle deal which includes an interactive map containing all of the locations mentioned in the book, a ferry map for where all of the crossings can be found, a travel checklist designed for your Nordic adventure and a high res original landscape. The bundle is available for £19.99 – available here