I'm sure you've seen a tonne of photos on Instagram of vans parked in wild and wonderful places. However every time you try to take your van out you end up in a Tesco carpark for the night. Well have no fear, with our help we are going to show you how to find the best campervan park ups.
How to find the best campervan park ups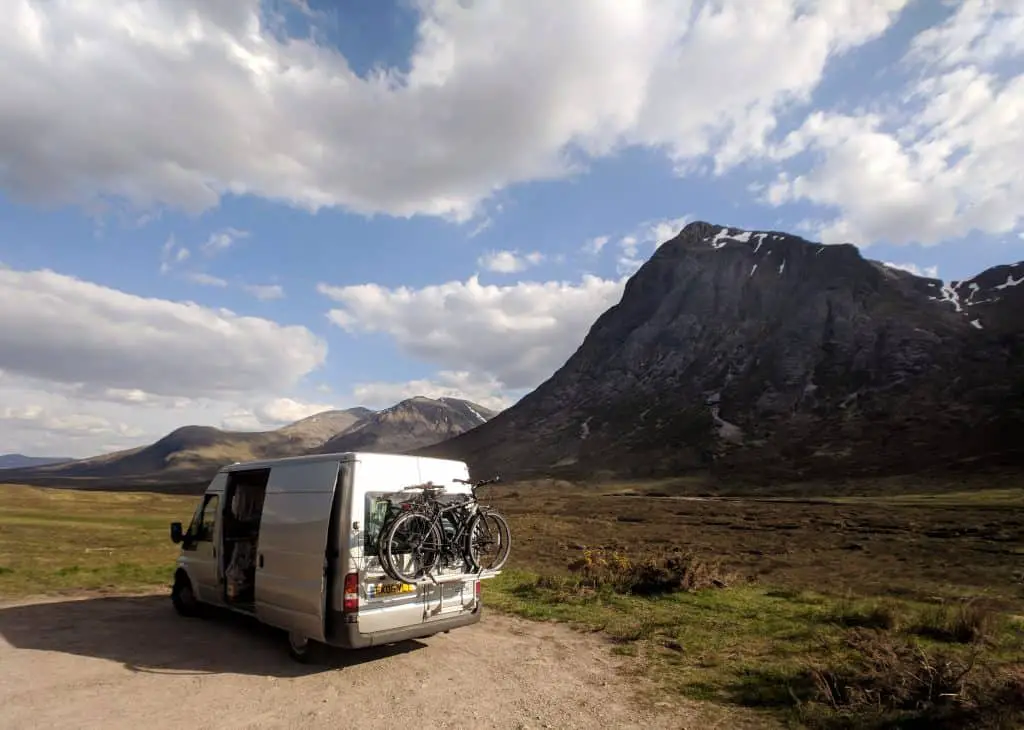 Use an app
As with most problems in life there seems to be an app looking to solve it and finding the best campervan park ups is no different. For our money the best app for this by far is Park4Night which is available for Android and iOS. It has over 60,000 locations worldwide but is mainly concentrated on Europe and the UK. You can search for an area or postcode near where you will be travelling and it will show all the local crowd sourced car parks and wild camping park ups; including reviews, photos of the park ups and exact co-ordinates.
While there are plenty of other apps which do the same job none are as comprehensive as Park4Night for UK vanlife parkups and seen as all of the locations are crowd sourced they are always adding more and updating information on existing park ups. This is our favourite method for how to find the best campervan park ups thanks to it's ease of use and simplicity.
Download a map
Here's one of our big secrets for finding free wild camping spots in the UK; the map from wildcamping.moonfruit.com. It has to be one of the most comprehensive maps out there for UK specific park ups, petrol stations, water points and frankly anything UK Vanlife. You can easily download the map from the website and add it to your own Google Map so that where ever you are in the UK you will always be able to find a free wild camping spot to pull in for the night. Unlike Park4Night, this wild camping map is a curated list and is far less popular and so you will find park ups on here which you won't find on the popular app and so you can truly find yourself parked out in the wild all alone.
Google Maps is your friend
If you're really looking for your own private spot that no one else knows about then you have to go searching; however rather than driving down endless dead end tracks in your van you can just fire up Google Maps and specifically Street View and start virtually driving down these roads. Our trick for how to find the best campervan parkups on Google Maps is to head to large areas of green on the map and fire up Street View. Going down all of the available small side roads in that area of green will show you plenty of little pull ins, lay-bys and trail heads you can use as a park up for the night. You can get a sense of how busy the area is for cars and how easily you can fit your van into the spots. Make sure you remain aware of any restrictions that there may be either for the road or for the park up you plan to use. The beauty of this method is that you can do all of your research from the comfort of your own home even before you turn the ignition.
Ask Facebook
As much as Facebook can be a time suck it can also be a hive of information and if you're looking for the best campervan parkups it can be a fantastic resource. Using groups such as Campervan Overnight Parking you can request recommendations for park ups in a local area from the people who know best, the locals. Groups such as this Wild Camping one also provide great tips for where and when you can park up. On top of this if you need information about the area you plan to park up in why not try joining our UK Vanlife group, everyone in there is super nice and helpful, we promise.
Join Britstops
Britstops is a scheme where pubs, restaurants, farms and shops can sign up to to offer their car parks for use of campervan owners who are also part of the scheme. All you need in order to be part of the scheme is to buy their yearly directory which costs around £27.50. This gets you access to stay at one of the over 900 of their Britstops across the country. While the park ups do not have the facilities of a campsite they are quiet, off road and safe which is a price worth paying when it comes to looking for great park ups. Just rock up to the Britstop, take your directory in and introduce yourself to the owner and you're away, it really is as simple as that.
These tips on how to find the best campervan park ups should have you set up for success when it comes to your vanlife adventures in the UK. If you have any more tips for us then let us know and we will add them to the article so they can be of use to the rest of the UK Vanlifers out there.