Whether you're thinking about converting a van, hoping to travel in a van or already living in a van you're going to have questions about showering in a campervan. No matter how resolved you are that you won't be showering every day, there'll come a point where you simply need to get clean. While this is a challenge due to the lack of space we all have it doesn't have to be a difficult one because there's simply so many great ways you can wash without a bathroom in your van. Here's the most common ways our writers shower while living in their vans
Use a gym
For those of you who want to have regular hot showers while living in a van then joining a nationwide gym is a fantastic way to have access to a bunch of facilities without having to use up space in your van.
A nationwide chain such as PureGym offers 24 access to showers and in addition to this you can also exercise even on those dank rainy days. Most cities in the UK have a branch and so you're not limited when it comes to travel around the country and thankfully they also offer contract free monthly membership so you're not tied down should you decide you want to take your van abroad.
Prices for PureGym start as low as £9.99 a month for an off peak pass or you can simply sign up for a day pass for £4.99.
Carry a portable shower
If you don't feel the need to shower every day or every other day and the thought of joining a gym feels alien to you then using a portable shower is an easy way to have a shower in your van without the need for a permanent room to be built.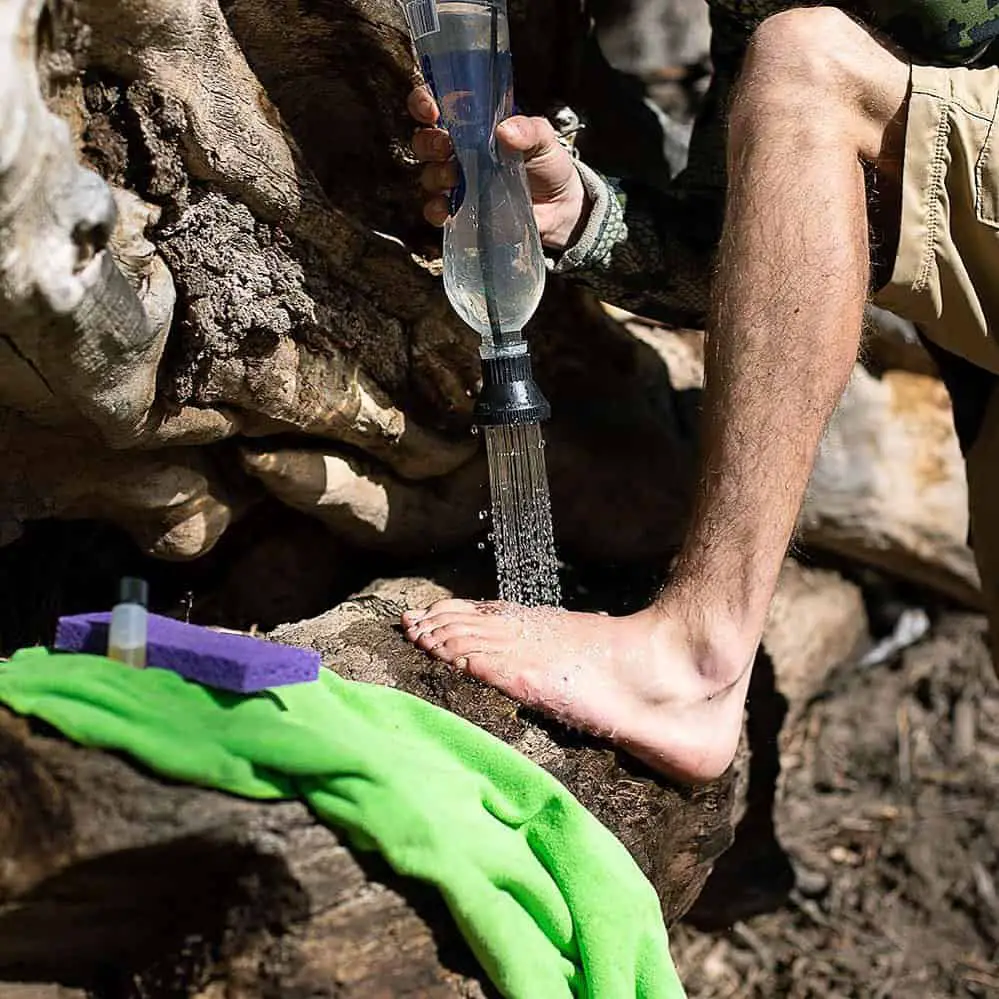 Portable showers come in all shapes, sizes and can be as basic as a plastic bottle with some holes poked in to USB charged underwater pumped shower heads. But what they all have in common is that you can stow them away in your van and only need to pull them out when you want a shower rather than having to deal with a third of your van being taken up with a dedicated shower.
Here's some of our favourite portable showers:

If you're looking for an affordable pressurised camping shower then Dr Prepare Camping Shower is a great option. With a matte black exterior you simply fill up with water, leave it in the sun and it will heat up giving you a warm shower. This version comes with a foot pump so you can have pressurised water from the 2m shower head. Even better it packs away to under 4 inches wide so you can stash it away and not have to worry about it.

If you're looking a budget option then the Simple Shower could be a great option for you. It's a screw on showerhead which attaches to any plastic bottle to turn it into a gravity shower. What you lack in pressure you gain with both ease of use and pack size. The Simple Shower is so small there's no campervan where it can't simply be thrown into a draw just in case.

Turn any bucket, bowl, water source into a powerful electric shower simply by adding the Ivation Outdoor Shower. It's chargeable via USB which is great for van living and lasts for 60 minutes on a single charge. With an inbuilt water filtration system the Ivation Outdoor Shower is a luxury pick for the discerning vanlifer but is cheap compared to putting a full electric shower in your van.
Any of these options make great camping showers and pack away to be tiny so if you are either comfortable showering outside your van or know a bunch of quiet out of the way spots where you can get clean then they are a great option for you.
Install a permanent shower
If all of the above doesn't float your boat you still have the option of installing a permanent shower into your van. They are surprisingly affordable and can run using your propane gas tank to provide you with instant hot water.

A unit such as the BuoQua 6L Propane Shower can be mounted conveniently inside your van, requires no electricity as it uses a propane tank for it's power which gives you flexibility to move it both inside and outside.