When it comes to converting a van into a camper van planning really is everything. The amount of both time and money you can save with a little investment in both time and money is huge and so having built 5 vans ourselves we are going to talk you through the process of how to design a camper van layout; the things to consider, what tools you can use both free and paid and how to go about creating the perfect van home for yourselves.
How are you going to use your van?
Before doing anything else you need to decide how you intend to use your van, what are your goals with the conversion and how will you use the space. Based on how you see yourself using your camper van you will need to adjust your layout.
Will you live in your van full time? – You might want to include more storage for all of your things
Are you going to work from your van? – Perhaps you need to include a desk space
Do you want to be stealthy? – Maybe you want to forego windows in the back
Look at how and where you will use your van and try to list how you see your time spent in the van.
Gather some inspiration
If you're anything like me you've been collecting van inspiration for years anyway however if you haven't then the planning stage is the time to start. Gather things you like from other people's conversions, things you didn't think of yourself and stuff you see that inspires you. If you're looking for places to start I recommend following the #vanlife hashtag on Instagram or by following our Instagram page @UKVanlife.co as well as checking out the UK Vanlife Facebook Group which has tonnes of amazing vans and thousands of people eager to help and answer your layout questions.
Draw out some layouts
Now that you've thought about how you will be using the van and have got a bunch of inspiration for the things you like and don't like, it's time to start drawing out some layouts. By visualising each possible combination of layouts you can get a sense for how the van will work, can you fit everything in, is the kitchen going to be big enough and will the space under the bed have enough clearance for your fridge. This is also the opportunity to see whether you can fit everything you want into the van or whether you may have to make compromises or move elements around. It's better to do this now then after you've already started drilling and cutting.
Here's the 3 methods I have used for designing a camper van layout, there's pros and cons for each:
Pen and Paper
Nothing really beats getting out your pen and paper and just doodling layout after layout. Once you have the dimensions of your blank van drawn out I recommend photocopying it a few times so you can test out different permutations without having to draw everything all over again. The beauty of this method is that it requires no skill to draw some boxes and lines in a van template and it's completely free to do, what you're left with however is more of an abstract looking van which may be a tad difficult to visualise yourself in if you're not that artistically inclined.
SketchUp
If you want to try your hand at something a little more technical then I have used SketchUp previously for van designs. It's a 3D modelling software which allows you to create a fully 3D version of your van and move all of the items around inside. Although SketchUp is paid software it actually offers a free version for personal use which means that like the pen and paper it's completely free to use. The downside is there is a bit of a learning curve to the software. As it's not designed specifically with van conversions in mind, you have to learn a lot of skills in order to be able to adapt the software to fit your needs. It's not too tricky and the results you can get from SketchUp are pretty impressive.
Vanspace 3D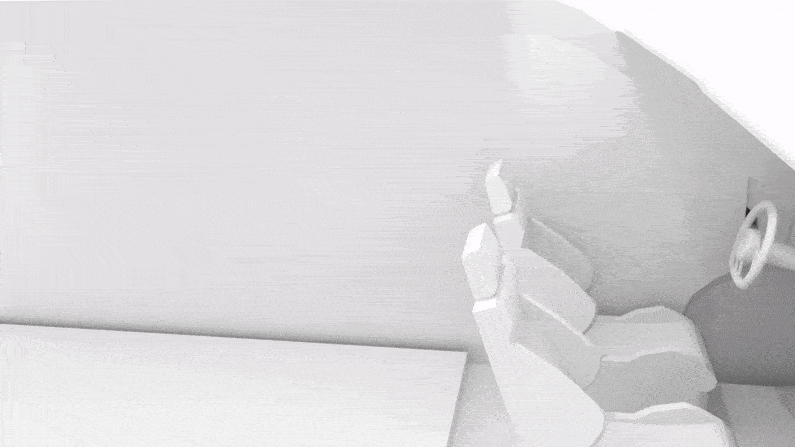 Similar to SketchUp, Vanspace 3D is an online modelling software that lets you build a 3D version of your van and fill it with potential items for your conversion. The main difference between SketchUp and Vanspace 3D is the ease of use that Vanspace 3D offers; it's software designed by vanlifers specifically for designing camper vans. It comes with premade templates for each make and model of van as well as prebuilt templates for cabinets, beds, appliances and even cushions, which means you can pretty much drag and drop what you want for your conversion straight into the empty van, it even has colours and materials so you can customise the look of the model and see how your van might actually look when finished. While there's still some learning to do with the software, compared to SketchUp it's a doddle. The downside is that Vanspace 3D is a paid piece of software however the price of $19 (just under £15) is a small price to pay for the kind of thing you get to produce.
With any of those 3 tools you should be able to design your perfect van layout, taking into account how you are going to live in the camper van and setting you on your way to a successful conversion without having to make the mistakes in real life, just on the page instead.