The chances are that you're simply not going to have enough space to include an oven in your camper conversion. The amount of space that even the smaller camping ovens take up plus the additional gas you need to carry to run them mean that the majority of your cooking is going to be undertaken on a hob. Despite this limitation it doesn't mean that you can't cook all of your favourite meals from the comfort of your own van. With the addition of a few key kitchen tools as well as a little bit of creativity you can soon be cooking a roast dinner all from your van.
So lets look at some cooking solutions for those of you who will be cooking without an oven in a van.
Omnia Oven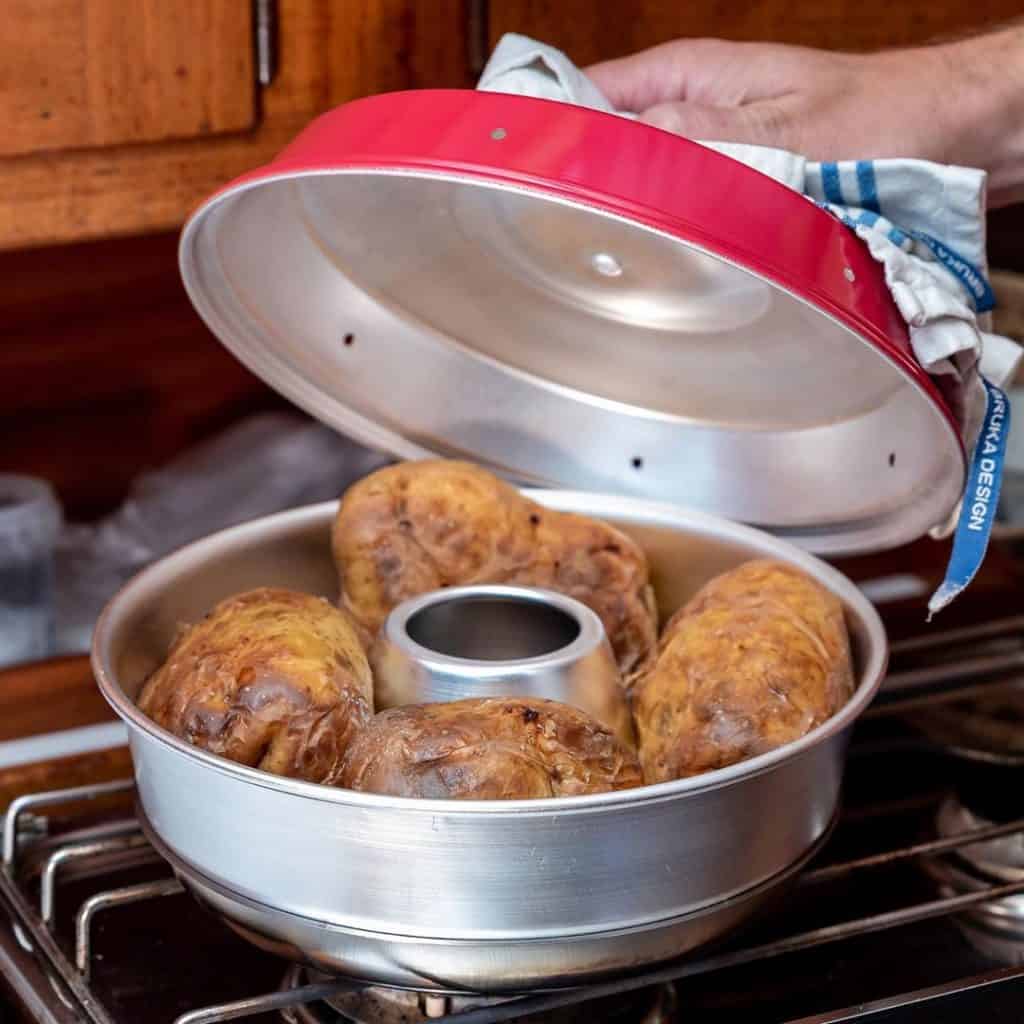 The Omnia Oven is essentially a ring shape oven that sits atop one of your gas hobs. The clever design allows for heat to be provided both on the bottom of the oven itself as well as from the top thanks to smart ventilation and a clever lid design.
The Omnia Oven works so well that there's nothing that I would normally cook in a conventional oven that I wouldn't cook in the Omnia Oven. Bread, cakes, roast dinners, pizza and many more recipes have come out brilliantly, cooked thoroughly and with crispy crusts and melted cheeses. For cooking in a van, the Omnia Oven is an essential piece of kit.
Wonderbag Slow Cooker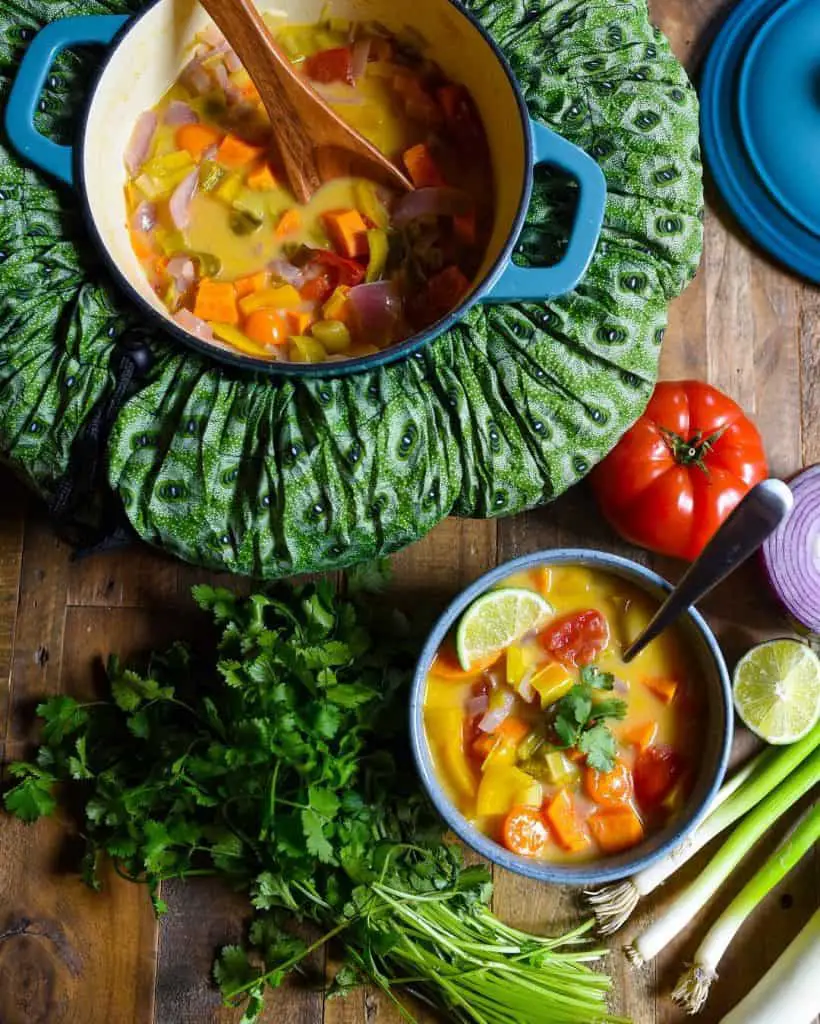 If you're looking to cook some of your slow cooker recipes in your van then you'll know that the long cooking times and the amount of electricity a slow cooker can take means that it's nearly impossible to be able to do this in your van. Enter Wonderbag, a completely electricity free slow cooker.
Simply bring your ingredients to a simmer in a pan on your gas hob, move the pan into your Wonderbag and seal it up and then leave to continue cooking as you would do in a traditional slow cooker. The Wonderbag works by being super insulated therefore retaining all of the heat from the simmering food inside the bag. This heat then continues to slowly and gently cook whatever you put inside the bag.
The Wonderbag is fantastic for anything that needs long slow cooking times like soups, stews, curries and anything like that. You can set up your meal in your van in the morning, put it in the Wonderbag, go out for the day and come home to a slow cooked stew. It makes a fantastic addition to your cooking arsenal especially in the winter months.
Ridgemonkey Toaster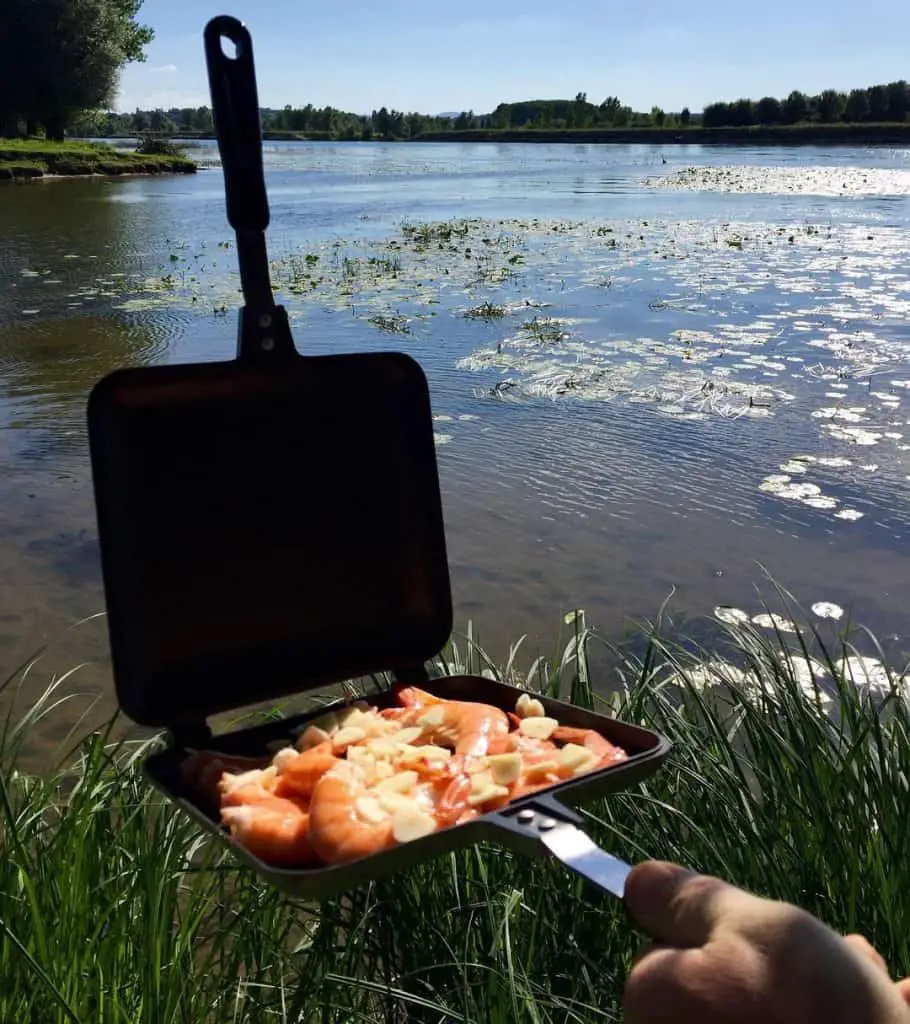 In terms of versatility for cooking you can't go wrong with a Ridgemonkey Toaster. It is a flippable non stick frying pan that means you can fry items on both sides without the hassle of having to continually turn it in the pan. While this is useful, the real trick of the Ridgemonkey is that similar to the Omnia Oven, the design means that heat is applied to both sides of the food, meaning you can cook meals that you wouldn't normally be able to do such as pizza, and have the cheese on the top actually melt.
One of the reasons that the Ridgemonkey Toaster makes such a great van cooking implement is that it is actually 2 removable frying pans, giving you the option to separate these pans and use them as traditional frying pans. That kind of multi function is key when you have a small amount of storage space in a kitchen. Add to that the fact they make a mean cheese toastie and you can see why nearly every van you go into has one of these lying around within easy reach.
Cooking in your van
With the Omnia Oven, Wonderbag and Ridgemonkey all stowed away in your van kitchen there is simply very few of your normal meals that you won't be able to cook. Just because we live in vans doesn't mean we should sacrifice our love for good food and with these items we don't have to.
Yes, we may have to get slightly creative in adapting the recipes to go within our new cooking implements but it's worth it to get some fantastic food in wonderful locations.
If you're looking for recipe ideas then check out our list of the Best Vanlife Books which includes our favourite campervan cookbook.