Just because you're in a campervan doesn't mean movie and game nights have to consist of you crowded around your laptop screen or propping up your tablet on your side table. These days it's super affordable to have a projector in your campervan and enjoy films on the big screen as they were intended both indoors or outdoors as well as gaming on the go. Here's our guide on how you can have a camper van projector and what you need to get the absolute best out of it, all within a reasonable budget.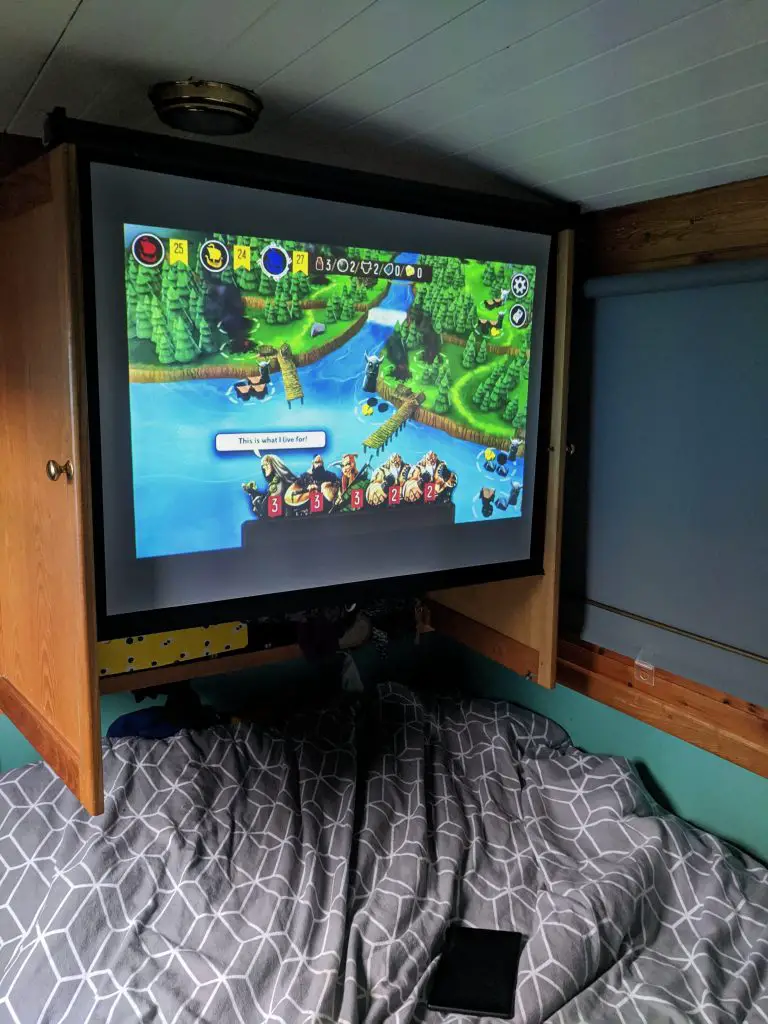 Campervan Projector
There's so much information out there on projectors and people will talk about all kinds of confusing stats like lumens, throw ratios, resolutions and contrast ratios. These are all important however what we're looking for for a campervan projector differs from people looking for a projectors for their homes, we don't want the best projector on the market, we want the van projector.
One of the biggest contributing factors in the high price of home projectors is the number of lumens, which is basically how bright the picture is. This is vital for home projectors as the projector usually has to project over a large distance and the further away from the light source you go the less light there is and so you need a higher count of lumens. For us in a campervan this is less of an issue as the projector is never going to further away than 2 metres. This is the first place where we can save some money compared to home projectors.
When we come to the recommended projector below you'll see that this is where we've saved literally hundreds of pounds on our campervan projectors by not paying for high lumen counts and so we can take a look at where to spend money on our projector to give us the best picture. By far the most important feature to pay for with any campervan projector is something called keystoning. If you tilt a projector upwards you will notice that the picture turns from a nice rectangle to a stretched out and slanted shape and becomes unwatchable. A campervan projector with keystoning maintains that regular rectangle shape regardless of the tilting of the projector. This is so important inside your van where you will have to have your projector in unusual angles in order to fit it in to the smaller space and so is worth paying a little extra for keystoning as a feature.
Another feature to consider is how you are going to be powering the projector. They can be incredibly power hungry and so you need to make sure you can keep it topped up and running through even the longest film. The projector we use has an internal battery which lasts for 3 hours on a full charge however can also be run directly from a USB battery pack or from our 12V system. This means we can run it indefinitely when we're in the van and can run it for hours if we decide to take it outside for an outdoor movie night.
Our Projector recommendation

Keystoning
Internal Battery
Netflix/YouTube directly from the projector
Control via an app
Bluetooth
The Yaufey Mini Projector wasn't actually the first projector we used, we actually had the Riff 6 Cube projector which initially we thought would be great but we found actually lacked the vital features we discovered were needed for a vanlife projector. The Yaufey Mini Projector actually runs off an Android operating system similar to your phone which means you can run Netflix and Youtube directly from the projector so long as it can connect to your wifi or a mobile hotspot. You can control the projector using either the provided remote or via an app on your phone and you can load up TV and films onto a usb device and plug them directly into the projector. For the price you really can't go wrong and it simply works in our van, is definitely bright enough and can run for ages on it's internal battery and via our USB ports in the van.
Projection Screen
When you're saving so much on a projector by choosing a lower lumen option it's all the more important what you are projecting on. The flatter and more reflectively white the surface is the brighter and better quality the picture will be. Yes you can 100% project onto a white bed sheet and you will get a picture however by adding a very affordable projection screen you will be using your projector to it's fullest. The screens are made from a highly reflective and most importantly completely opaque which means you don't lose any light passing through the surface and it is all reflected back to you. Thankfully they make projection screens in all shapes and sizes which means that you can get one which is perfectly van sized. For us that meant getting a 40 inch projection screen which is enough to have a huge screen in the van but not so large that we couldn't ever set it up inside.
Our Projection Screen recommendation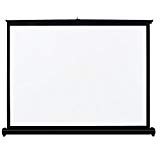 40 inches
Fold away
Highly reflective
Our projection screen is the size of a 40 inch TV however folds away into its hard case and is about the size of a poster tube and is protected enough for us to throw it under our bed without fear of it damaging. It has mounting points so we can leave permanent fixings in the van and simply hang the screen from the roof or attach it in the sliding door when we want to have a cinema experience outside.
Bluetooth Speaker
Unfortunately in order to keep the projector we have recommended at such a low price a compromise has been made in the quality of the speakers; they are small, quiet and very tinny. Fortunately the campervan projector we have recommended has the ability to connect speakers to it via AUX cable but also via Bluetooth which means we can easily turn our quiet films into true movie sound really easily.
Everyone has their own go to Bluetooth speakers these days and so for us we needed one that was rugged enough to handle not just our campervan movie nights but all the others that van life has to throw at it especially in the UK elements. Waterproofing, huge bass and high volumes is what we are after and so the options for you are endless but here's what we recommend.
Our Bluetooth Speaker recommendation

100ft range
15 hour battery life
Loud
Waterproof
The Ultimate Ears BOOM 2 can connect to the projector and provide great sound both inside and outside of the van. It's simple 'do everything' button makes pausing the film from a distance simple and volume controls for the projector itself are handled directly on the speaker. It has a 15 hour battery life and is also waterproof making it a great companion for our van life adventures not just our movie nights.
With the above 3 items you can have a fully immersive cinema experience in your campervan. But the fun doesn't end there, connect your phone to the device to see your pictures on the big screen, play your computer games console on the side of your van, watch YouTube van tours while inside your van. You should now be set for the ultimate home entertainment system all from the comfort of the back of your campervan.